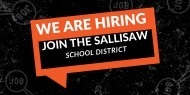 Teacher Assistant Job Opening
T Jasna
Saturday, August 21, 2021
Liberty Elementary School
Opening~Teacher Assistant Job
Position Summary: We are currently looking for a friendly and competent Teacher Assistant to join our team. If you are a compassionate and self-motivated individual with a specific interest in elementary education, we urge you to apply! In this position, you will be working with the classroom teachers, one on one or small group activities with students, monitoring behavior, assisting with student meals, and maintaining classroom tidiness. You must be able to work well under a general education staff.
Our mission is to encourage student development and personal growth as they transition from early childhood to young adults. The staff of Sallisaw Public Schools is dedicated to the belief that all students can learn, and therefore strive to provide unique learning opportunities for each child. We will work each day to make Sallisaw Public Schools the best school district possible while providing a positive and supportive environment.
Application Procedure (REQUIRED):
To apply for this vacancy, please go to sallisawps.org and complete an online application and/or email Liberty Elementary Principal, Toni Jasna (tjasna@sallisawps.org) Included with your application, please provide a resume and reference letters as available. As a minimum requirement, you must have an associate's degree and/or completed your ParaPro Assessment.
Contact Information:
For more information or questions, please contact Toni Jasna at 918-775-4741.
Sallisaw Public Schools is an equal opportunity employer
Thank you,
Mrs. Toni Jasna
Principal