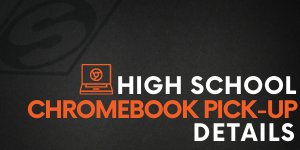 High School Chromebooks
Scott Mosby
Thursday, July 29, 2021
Chromebook PickUp
****students will be called out during their designated times!
FRESHMEN Tuesday 08/10 during Freshmen Orientation
JUNIORS: Thursday 08/12 1st and 2nd Period
SOPHOMORE: Thursday 08/12 3rd-4th Period
SENIORS: Thursday 08/12 5th-6th Period
Please bring $20 cash or check for the Chromebook Insurance and the Insurance Agreement.
Chromebook Insurance Agreement. Make checks payable to Sallisaw Public Schools.
Check back for more Chrome details for Middle School and Elementary soon.