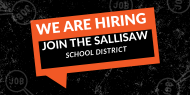 Special Education Teacher
Chad Jasna
Wednesday, July 14, 2021
Special Education Teacher
Apply Today!
Vacancy Description:
Special Education Teacher
Qualifications: A current Oklahoma teaching certificate with Special Education in Mild/Moderate & Severe/Profound areas.
Candidates must demonstrate knowledge of special education, mild/moderate needs, severe/profound needs, behavior management within the general education classroom, special education classroom, consultation, and developmental needs of school-aged children and adolescents.
The Special Education teacher must work collaboratively to design Individual Education Programs(IEP) that implement evidence-based, differentiated, and innovative instruction.
Application Procedure (REQUIRED):
To apply for this vacancy, please go to sallisawps.org and complete an online application and/or email Eastside Elementary Principal, Chad Jasna (cjasna@sallisawps.org), Special Education Director, Erika Dickerson (edickerson@sallisawps.org) or Superintendent, Randy Wood (rwood@sallisawps.org).
Materials required for consideration:
Included with your application, please provide a resume, a copy of your teaching certificate, and reference letters as available.
Contact Information:
For more information or questions, please contact Administration Office at 918-775-5544.
Sallisaw Public Schools is an equal opportunity employer