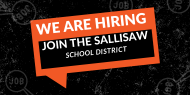 Liberty Elementary School Custodian Job Opening
Toni Jasna
Monday, June 21, 2021
Liberty Elementary School- Custodian Job Opening
Position Summary: Responsible for cleaning and maintaining the entire facility using the proper chemicals, equipment, and techniques. He/she will report any unsafe conditions and/or maintenance needs to the supervisors.
Our mission is to encourage student development and personal growth as they transition from early childhood to young adults. The staff of Sallisaw Public Schools is dedicated to the belief that all students can learn and strive to provide unique learning opportunities for each child. We will work each day to make Sallisaw Public Schools the best school district possible while providing a positive and supportive environment.
All applications will be reviewed by our Administrative team.
Application Process: • Print/Complete/Submit an application at the Administration Office
Application link below